Practical Personal Protection Tactics for Today's Real-World Encounters

Let's face it, the world isn't getting any kinder. You watch the news seeing things you never thought you'd see on America's streets. Terrorist attacks, riots and street crime are all on the rise.
Things we used to watch on television, from faraway lands, are now front and center on the streets you walk every day. You want to be prepared to protect your loved ones but you're not down with the "martial arts mumbo jumbo."
We get it.
You want practical tactics that work in today's society, not feudal Japan's. Your first inclination is to walk away from an altercation before you'll "knuckle up," and you can't afford to get hurt trying to train to be the next MMA superstar.
You want something simple to learn, easy to apply, and is devastatingly effective, should you ever need to rely on it.
Again, we get it.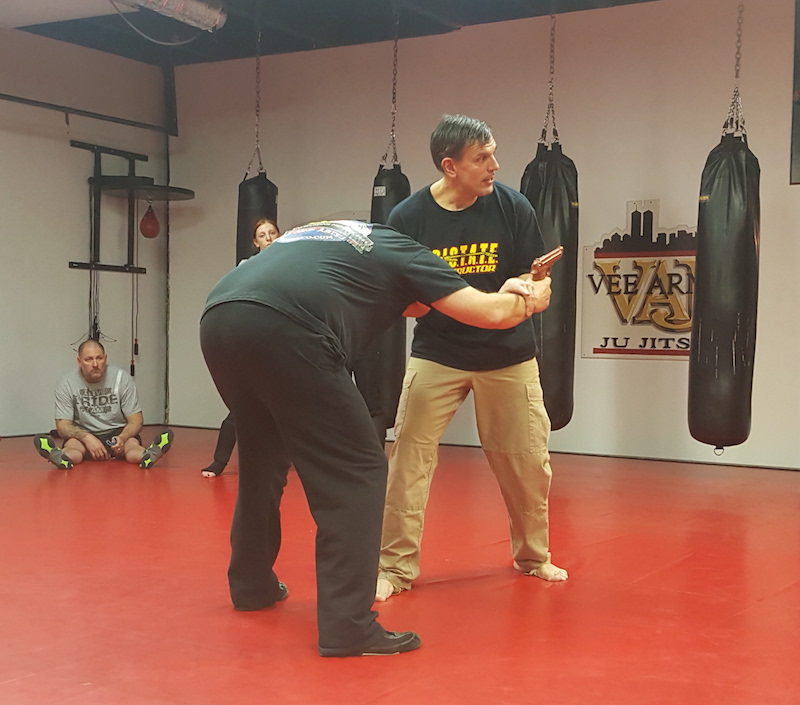 Our DICTATE Tactical Training Program will give you what you're looking for, and what you need. A stupid simple program that will work regardless of the situation. Tactics you can learn today and use today, not five years from now when you get your black belt.
10 Concepts
3 Goals
3 Options
That's it. If you can learn those you're covered.
Guy snatches you up by your collar? You're covered. Tries to push you over the hood of your car? You're covered. Pulls a blade? You're covered. Gun to the back of your head? You're covered.
Are you getting the idea? No other program will make you as capable of protecting yourself in a shorter period of time. As a matter of fact, it's so effective it has been taught to military personnel and law enforcement agencies all over the world, by the Chief Instructor who will train you.
Special Operations? Yup. DEA? Yup. Sheriff's departments? Corrections officers? Royal Thai Police? Yup, yup, and yup. Over a hundred more as well.
As one SpecOps soldier put it, "they cut the BS out of martial arts and leave what's practical, easy to remember under stress, and effective."
If it's good enough for them, it'll be good enough for you.
CLICK HERE and get your Startup Membership and see what we're all about. We'll even refund your money if you decide it's not for you. You have nothing to lose by trying and everything to lose if you don't.
Don't trust the safety of you and your family to anyone else.